Start:
14:00
End:
2:00
Locations:
Rathausplatz, Löwelstraße, Teinfaltstraße, Freyung, Am Hof, Graben, Stephansplatz, Prater/Riesenradplatz, Neuer Markt, Haus der Musik, Herbert von Karajan-Platz Wiener Staatsoper, Parlament, Aspern Seestadt
Fee:
Free
If you don't just want to celebrate New Year's Eve in the Night, you can already start in noon at the annual "New Year's Eve Path". The many different places offer you a variety of entertainment for every age. Along the Path, you can find many gastronomies, hot punch stands and programs. Of course, there will also be music for everybody: from Rock, Pop and Schlager music to the classic Walzer "am Graben", where you can also learn the Walzer with Viennese dancing Schools in the afternoon.
At midnight, there will be huge fireworks at the Rathausplatz and in the Prater and then you can party along the New Year's Eve Path until 2:00am.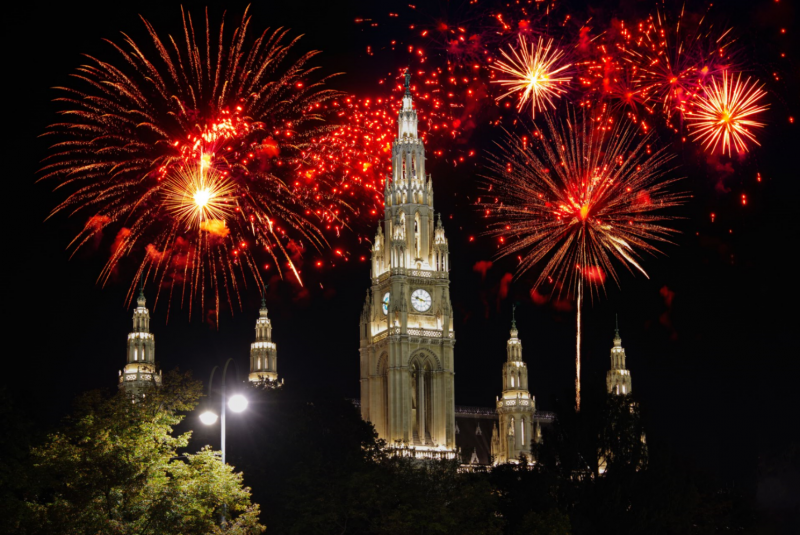 ---
Silvester Gala – MS Admiral Tegetthoff:
Sailing Time:
20:00
Expected Return
: 00:30 (conclude the evening in the harbor until 03:00)
Depature Harbor:
Reichsbrücke, Handelskai 265, 1020 Vienna
Fee:
Adults EUR 179,- and Children EUR 89,50
On this festive decorated ship on the Danube, you will experience New Year's Eve like never before. Inside the ship, you will find a generous buffet and you can dance to live-music. On the outside of the ship, you can hear the famous chime "Pummerin" and gaze at the wonderful fireworks.
If you don't want to go home at 00:30am already, you can still party on the ship in the harbor until 03:00am.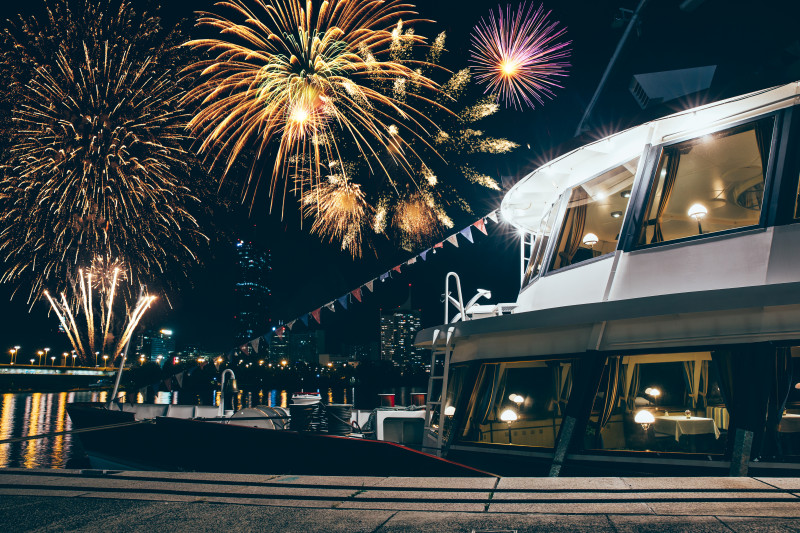 ---
Depature Time:
19:30
Expected Return:
2:00
Depature Train Station:
Franz-Josefs-Bahnhof
Fee:
Adults EUR 298,- and Children EUR 199,-
If you prefer staying on the land and above the Danube, you can take the Majestic Imperator and drive through the historical suburbs of Vienna. Accompanied with a 5-course dinner and a big dancing wagon, you can enjoy this ride to its' fullest.
The peak will be reached at a Danube bridge, where you can see the fireworks all around Vienna.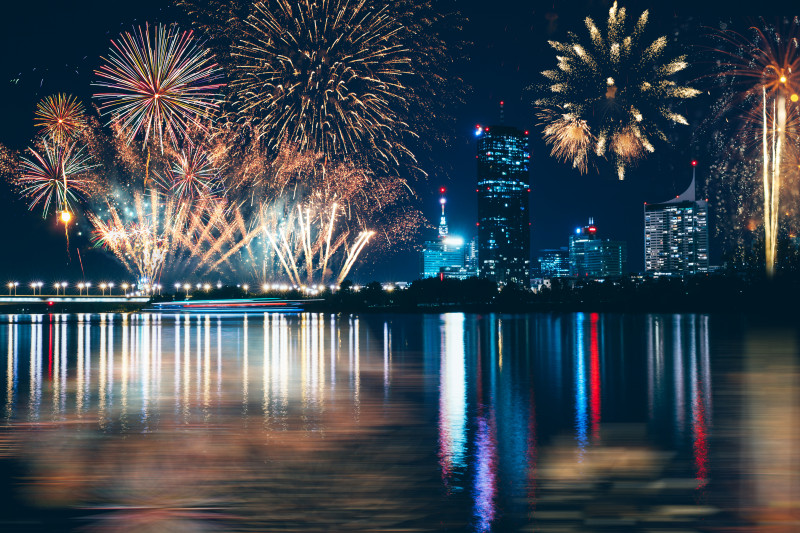 ---
Start:
18:30
End:
4:00
Location:
Hofburg, Michaelerkuppel, 1010 Vienna
Fee:
from EUR 170,- to EUR 780,-
On the 50th year jubilee of this New Year's Eve ball, the motto is "Time to Celebrate" and this huge program will amaze you: a 4-course gala dinner, many different buffets and bars will fill everybody's appetite. In the Chill-Out Lounge and in the Viennese coffeehouse you can relax and national and international artists will provide you with exciting shows throughout the whole evening.
---
Silvestergala im Rathaus:
Start:
18:30
End:
2:30
Location:
Wiener Rathaus, Friedrich-Schmidt-Platz 1, 1010 Vienna
Fee:
from EUR 160,- to EUR 420,-
One week ago the ballroom of the Vienna town hall was still a big Christmas workshop for Children and now it shines in a festive atmosphere for the turn of the year. The 4-course gala dinner accompanies you along with different musical programs through the cheerful evening.
---
Start:
19:00
End:
22:30
Location:
Wiener Staatsoper, Opernring 2, 1010 Vienna
Fee:
from EUR 18,- to EUR 278,-
Since New Year's Eve 1900, the Vienna State Opera plays the "Die Fledermaus" (English: "The Flittermouse" or "The Bat") by Johann Strauss every year. You can either see this traditional operetta inside the State Opera or you can see the live broadcast outside directly in front of the State Opera while enjoying hot punch.
---