In 2009 a nostalgic tram line in sun yellow was sent on its maiden journey on a new mission: as the Vienna Ring Tram it has since been conveying visitors to the city around the famous Vienna Ring Road – cheap and cheerful, with historical flair, compact information and huge entertainment value.
If there were rankings for the degree of fame of thoroughfares, the Vienna Ring Road, also known simply as "the Ring", would probably be Vienna's most famous street. Built in the 19th century on the orders of Emperor Franz Joseph I to replace the former city walls, the boulevard features a range of architectural jewels including the Parliament, Vienna University, the Burgtheater, the City Hall and the Vienna State Opera.
If the ring and the tram are the same age …
The history of trams in Vienna is as old as the Vienna Ring Road, starting at the time with the first horse-drawn tramway.
With the buildings on the Ring Road offering so many important attractions practically lined up in a row, now a particularly entertaining and comfortable form of viewing them from the outside is possible: with the Vienna Ring Tram, a nostalgic street train, you can circle the ring in about 25 minutes while being served lots of interesting information about what you are seeing via headphones in a choice of 8 languages.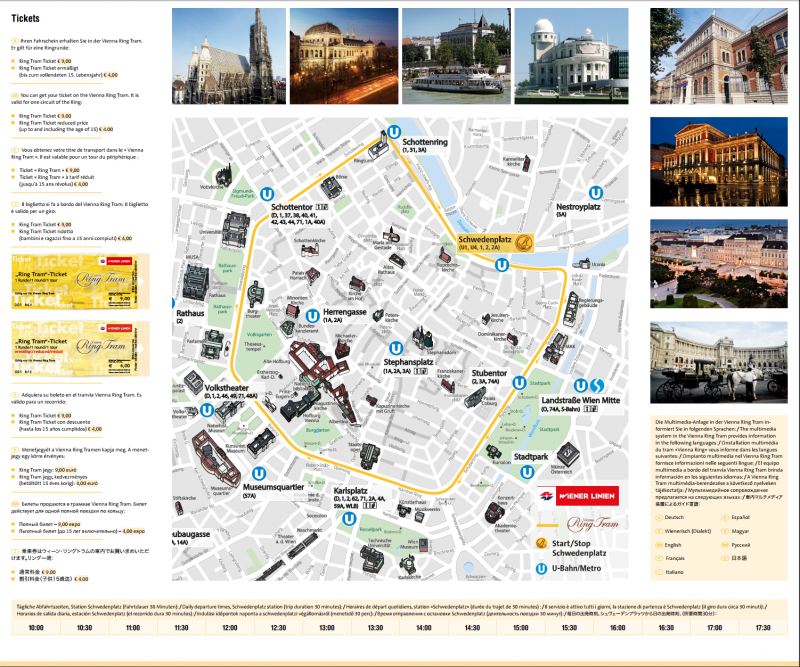 "Mundl" gets to the point of the Ring
8 languages? Actually no. The ninth language that you can listen to on your tour around the Ring is Viennese dialect, spoken by the legendary Austrian film and theatre actor Karl Merkatz in his role as "Mundl". This is probably only really understandable or familiar to genuine or those well-versed in Austrian culture, but apparently all the more popular these days with guests from Germany. The tenth soundtrack is made especially for small passengers: the Austrian actor Erich Schleyer acts as tour guide on this tour with the Vienna Ring Tram especially for children.
The
Vienna Ring Tram
runs at thirty-minute intervals throughout the year. The stop for the circular tour is on Schwedenplatz (can be reached with the U1 and U4) at platform C.
---