ART ADVENT – Art & Craft at Karlsplatz:
Location:
Karlsplatz, 1040 Wien
Opening hours:
22.11. – 23.12.2019, daily from 12:00-20:00
At the St. Charles Church (German: Karlskirche) you can marvel at beautiful crafts and hear Christmas live-music since more than 25 years already. The exhibitors don't just offer their creations for sale, they produce them on site, so that you can watch the different work techniques. To finalize your visit at this Christmas market you can enjoy a glass of hot punch on the "wheeled divan".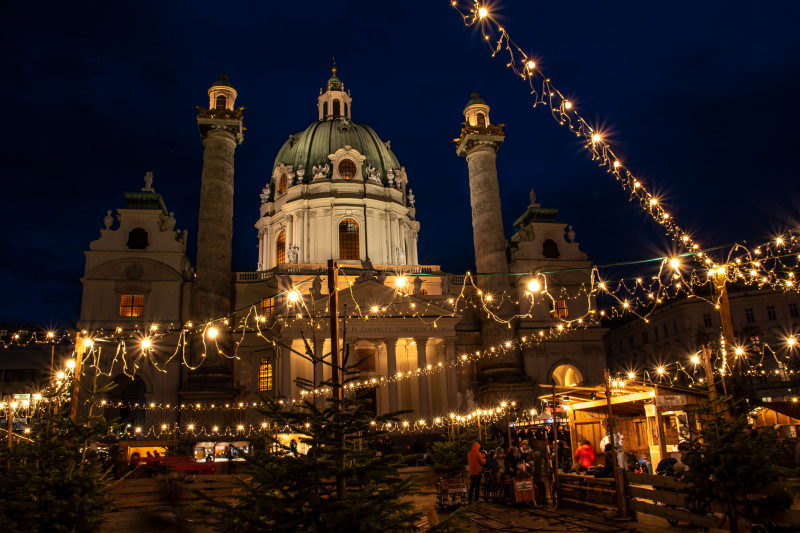 ---
Christmas Market "Am Hof", 1010 Vienna:
Location:
Platz Am Hof, 1010 Wien
Opening hours:
15.11.-23.12.2019
If you want to experience a traditional Christmas like 200 years ago, you should visit the Christmas market "Am Hof". Since 1842, you can find here Art, Crafts, Advent decoration and many more. With a local gastronomy and the famous "Swiss pine hot punch", that was invited at 1999 on that Christmas market, you won't forget this time travel to the old Vienna.
---
Vienna Christmas Dream Rathausplatz:
Location:
Rathausplatz, 1010 Wien
Opening hours:
15.11-24.12.2019, Sunday to Thursday from 10:00-21:30, Friday and Saturday from 10:00-22:00; Exception: 24.12.2019 from 10:00-19:00
The Christmas tree is lit until 6.1.2020.
The biggest Christmas market in Vienna don't just offer you hot punch, sweets, Advent decoration and crafts, it offers you many activities for everybody.
In the hall of the Town Hall, you will find a big workshop for Children. In the bakery, they can bake cookies and in the craft parlor, they can glue an owl moneybox with gemstones, burn a wooden box or garnish a candle.
On the outside, you can already go ice-skating on the "little ice dream": over 3000 m
2
icy surface with Christmas lights and many different paths that go through the Town Hall park.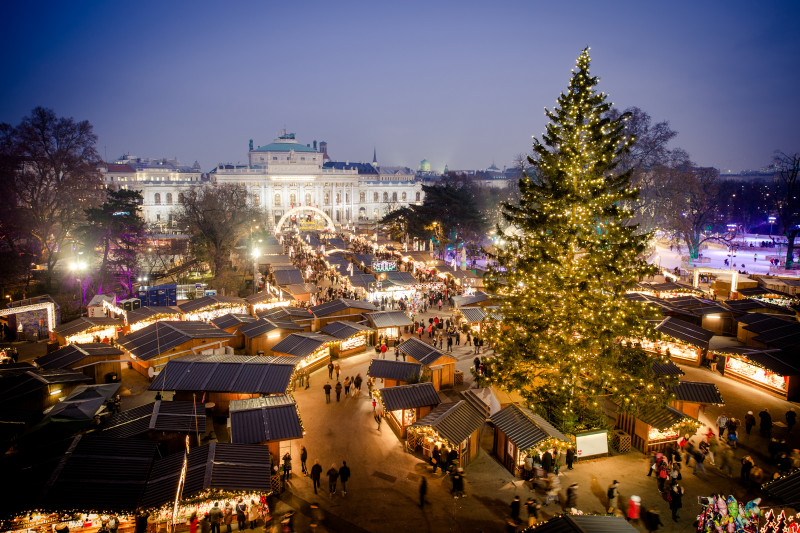 ---
Christmas Village at the Belvedere Castle:
Location:
Prinz Eugen-Straße 27, 1030 Wien
Opening hours:
22.11.-26.12.2019, Monday to Friday from 11:00-21:00; Saturday, Sunday and Holidays from 10:00-21:00; 24.12. from 11:00-16:00; 25.-26.12. from 11:00-19:00
The "Christmas village" at the Belvedere Castle impresses with the beautifully illuminated castle grounds and the many different Advent stands. Here you can listen to national and international famous gospel choirs and other music group in front of the gorgeous castle.
As every year, the popular "Children Nostalgia roundabout" and the "Reindeer Railroad" spin for the children.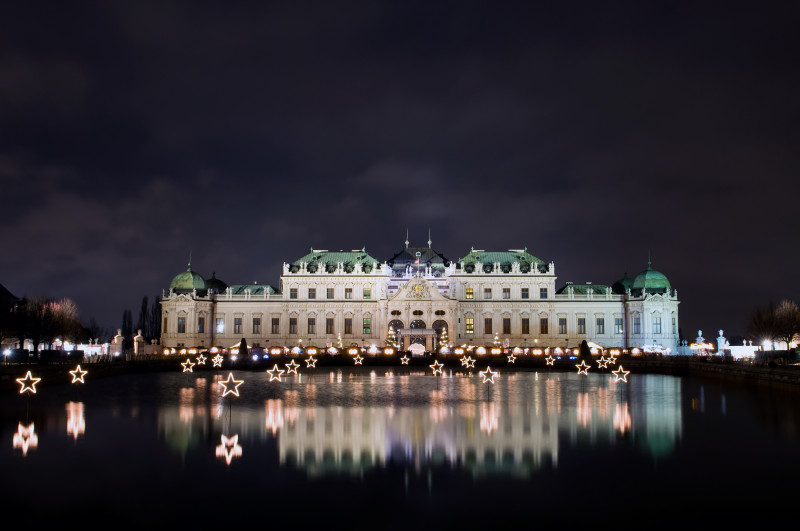 ---
Christmas Market Schönbrunn Palace:
Location:
Schloss Schönbrunn, 1130 Wien
Opening hours:
23.11.2019-6.1.2020, daily from 10:00-21:00; 24.12. from 10:00-16:00, 25.-26.12. from 10:00-18:00
This Christmas market is open even after December 24, so you can gaze at the huge Christmas tree in front of the Schönbrunn Palace (German: Schloss Schönbrunn) for longer. Nobody will leave with any open wishes because of the over 80 different Advent stands, many festive treats, the huge program for the children and the daily live-music.
---
---